My rehearsal dinner was one of the best parts of my wedding. It was casual and relaxed and the excitement for the next day created a great atmosphere. I know sometimes it's sort of an after thought, but my advice is to really put some thought and effort into your rehearsal dinner. It's one of the only times you will have to spend time with your nearest and dearest (unless you're me and had 60 people there...) during the wedding celebrations. So whether you want a casual dinner over pizza or a formal event with caviar this post is dedicated to the rehearsal dinner and all it's glory! Here are a couple spots I think are perfect for a
Spokane area rehearsal dinner
.
1. Clark House, Hayden Lake
The Clark House is a little piece of Martha's Vineyard in Idaho, what could be more perfect?! Located right on Hayden Lake, the venue is a Bed and Breakfast and can cater for up to 50 guests dining. Even though it's a tad on the pricey side, the quality and surroundings would be totally worth it! Check out their web site for more information.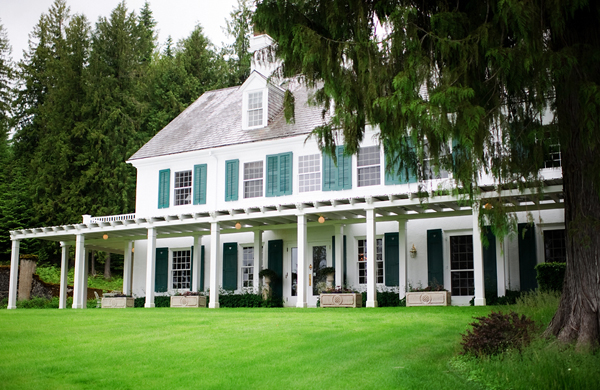 Photo by AiP Photography
2.Luna Restaurant
Luna Restaurant on the South Hill offers an intimate event space full of character and from what I hear (and Trip Advisor reviews) the food is pretty darn good as well. They have capacity for 75 guests indoors and 100 outdoors (so if you are having a smallish wedding I would give them a call!) The restaurant also has a lounge and outdoor terrace and garden for al fresco dining! A rehearsal dinner here would be great if you were having your ceremony anywhere on the South Hill or Downtown.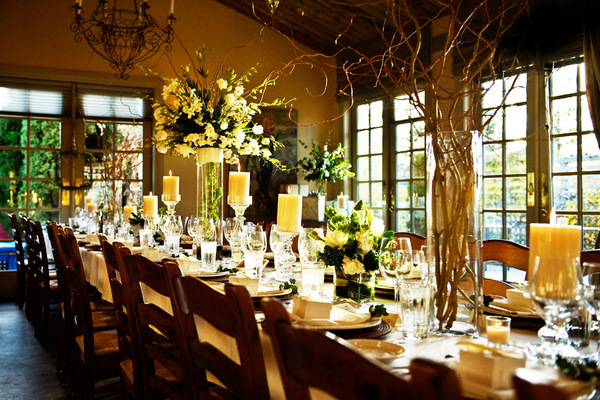 Photo by  Kimberly Kay Photography
3. Trezzi Farm
Owned by Italian Davide Trezzi and his wife Stephanie, the Trezzi Farm on Greenbluff specializes in authentic Italian cuisine. They also have a stunning vineyard and barn where they hold events like rehearsal dinners (and weddings). The prices are reasonable and offer unparalleled quality. The Trezzi's also offer off-site catering. Surrounded by pinot grigio grapes, bruscetta and rolling wheat fields, this is definitely the place to go for a casual summer evening rehearsal dinner.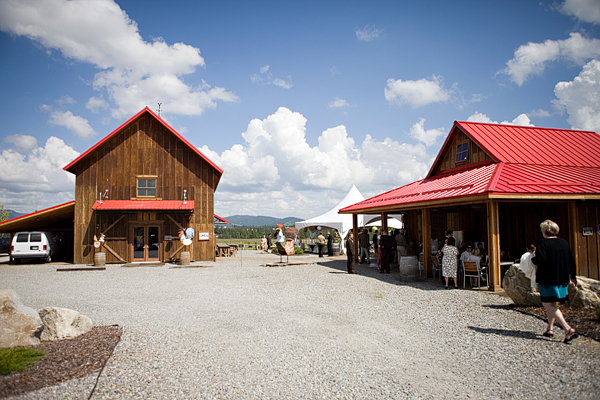 Photo by Amber Glanville
4. Stacks Restaurant and Steam Plant Brewing Co.
This may not be the most original place to have a rehearsal dinner in Spokane, but I always say...things are popular for a reason. Stacks Restaurant and Steam Plant Brewing Co. is a popular location for rehearsal dinners because it's unique and cool. Plain and simple. Wide open loft type spaces are one of the selling points for holding an event here, but if you are into the more intimate feeling, they have rooms for that too!
5. Catacombs Pub in the Montvale Hotel
Ok, I don't know very much about the Catacombs Pub in the Montvale Hotel downtown, all I know is that I am 80% sure they hold events and it looks awesome! The website teases you with enchanting pictures of a cozy European style pub but then gives no information! But I am posting it because it's way too cool to leave out. Forgive the poor photo, but when I said the web site hardly gives any information I meant it...this is all I could find. But how cool does it look!?