Please note: This post is not mean to represent what a couple should expect to pay for certain vendor categories, or what typical vendors should charge. It is meant to represent a fictional  breakdown of what percentage of your overall budget should be allotted to each category. For example, your floral should not actually cost $1,000. It should be approximately 10% of your overall budget, which in this imaginary example, is $10,000.
Welcome to the AB Budget Series! Over the next two weeks we will be putting a spotlight on one of the most important (read...least fun) parts of wedding planning, your wedding budget. No one wants to think about spread sheets and bank statements when there are bridesmaid dresses to choose and Pinterest boards to make, but for almost all couples, no matter how much you're spending, you will have to think about money at some point...where it's coming from, how much you have and if you have enough to plan the wedding you've always dreamed of. Fear not. We are here to help! This series is all about helping you spend your money wisely and getting the most out of every single dollar. For the next three days we are getting back to basics... how to make a realistic budget. How much should you spend for flowers? How much for your dress, rings, invitations, etc? Obviously the answers to these questions depend on how much you have to spend, so we've broken the series down into three different dollar amounts. We've also asked three amazing wedding planners and stylists to help us break down each one, so you can be SURE you're getting the real deal! The first budget is for a $10,000 wedding and we've asked the lovely Alyssa from
Belle Journée Events
to help us out. Alyssa is a master at helping her clients get the best possible wedding for the best possible price. She has also shared some of her best advice for keeping costs down and staying on track.

*Figures are based on an average wedding, each couple is different and each couple will have different priorities, so use these numbers as a guide to planning your perfect wedding. Figures are also based on a wedding in the Inland Northwest and will vary greatly in different parts of the country.*
Here's some advice from Alyssa about planning a $10k wedding...
What is your best tip for planning a $10,000 wedding?
Be thrifty, especially when it comes to décor. These days décor has become a huge part of wedding budgets, if you can keep costs down by shopping thrift stores, garage/estate sales, or searching Craigslist or other used bridal websites, you'll save a ton of money.  Another way to be thrifty is to think outside the "venue box". Maybe you can't afford the barn wedding you've dreamed of, but you can afford to rent a park lodge, or plan an off-season wedding. Most venues give major discounts for weddings booked October through April. You might be limited to an indoor venue; however, the money you'll save is well worth the sacrifice and gives you more to put towards other items like décor or food.
What is your advice for staying on budget?
Negotiate and have 2 or 3 options for each category. When talking to vendors such as your caterer and florist there are ways to get a similar look or taste for less money. Be honest with your first pick vendors about your budget, if they simply can't fit within your limits, then move on to your second or third option.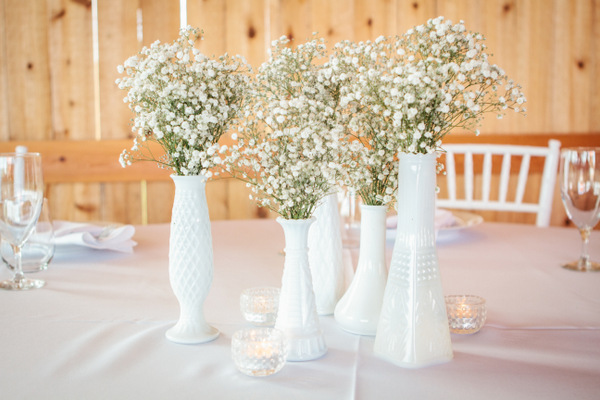 What is one thing you should never cut out of your budget?
A wedding coordinator…or at least a day-of coordinator. It might seem like spending part of your budget on this craziness, but not having a professional at least running the day-of can cause so many stresses that didn't need to take place. Asking an aunt or family friend isn't a good idea, because it causes them to miss important parts of your reception and no one wants that. Also, being that they aren't professional they won't know the timing to send your bridal party down the aisle or that they need to have the DJ make certain announcements throughout the evening to make sure people don't miss anything.
What is one way to save money on your wedding?
It might be hard to do so, but cutting the guest list can help a ton on saving money. For example: 200 guests at $23 per person is $4,600 (that's almost half your budget gone!). If you can cut that back to 120 guests you'll save $1,840! Which puts nearly 20% back into your budget. Sit down with your fiancé and maybe each of your parents and seriously ask yourself why each person is on your wedding list. Most people will understand that there simply isn't always enough room in a budget to invite everyone.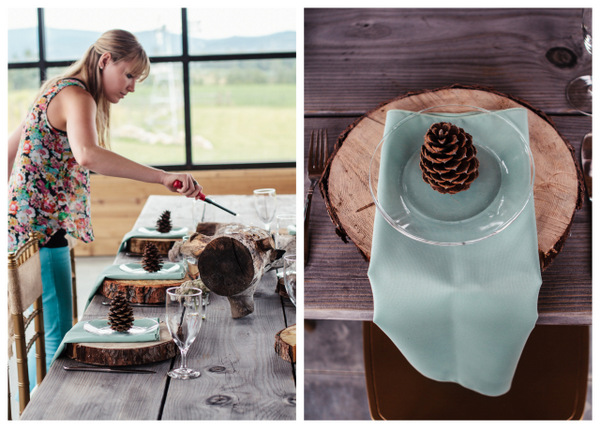 Photos by 2ee's Photography.
 Special thanks to Alyssa from
Belle Journée Events
 for all the great info.
More posts like this:
Can you Plan a Wedding for $6,000
5 Centerpieces Under $15