If you're looking for a rustic ranch wedding venue with a wide variety of options that you can totally customize to fit your wedding, Rockin' B Ranch is the place for you! Located just outside Spokane in Liberty Lake, this venue can hold a ton of guests, is surrounded by beautiful natural landscape, and all the amenities you could ask for for a perfectly rustic wedding. Keep reading to discover all the deets!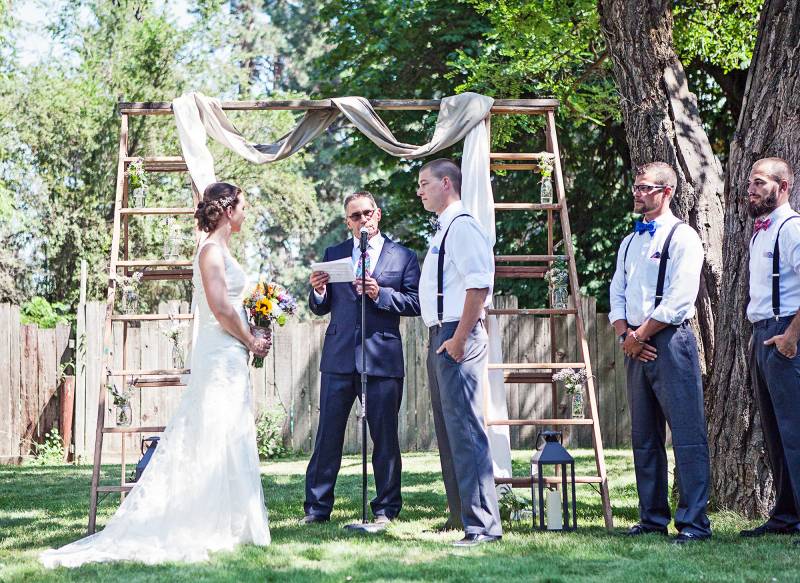 What type of wedding does your venue work best for?
Large weddings - seats 300 comfortably inside of the barn with outside options up to 1,000
What makes your venue unique?
Ranch Rustic
What is the capacity of your venue?
Inside seating up to 300, more outside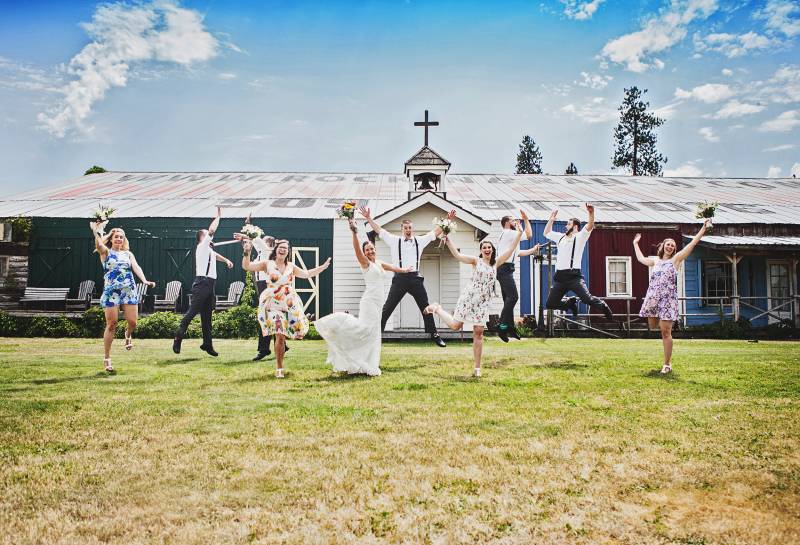 What are your catering guidelines?
You can use our catering, outside catering, or someone with a food handler's card. Outside and catered foods must come prepared
Do you have a ceremony location?
We have several options: down by the Agricultural Victorian house built in 1910, the north side of the barn on the lawn, in the Shoot Out area, or inside the barn
What is your advice for couples planning their wedding?
Two things -
For your rehearsal, begin the rehearsal by putting the bridal party where they will be standing during the ceremony. Then have them exit and return to their spots. You will actually run through the ceremony 1 ½ times. If you have them walk down the aisle without them knowing where to go, it takes much longer.

Instead of having your pastor/officiant stand on the platform facing your guests, have the bride and groom on the platform facing out, with the pastor/officiant's back to the guests. Everyone came to the wedding to see the bride and groom and their reactions to each other.
What is included in your packages?
Private Event site set on the agreed upon amount of hours

Wedding Rehearsal

Ceremony site (inside the barn, or multiple outside locations)

Bride & Groom changing areas

Reception area

Serving area for food/buffet

Fresh Water Dispenser

Table for Cake

Barn with 32 picnic tables for up to 300 guests for inside seating

Butcher Paper put on tables

Cowboy Swamp Coolers

Ample restroom facilities

Handicap Accessibility

Groundskeeper onsite

Free and plentiful parking

2 Dry Camping RV sites, day use only

Stage Lighting

Sound System including 2 microphones with iPod input or similar input

Wi-Fi - upon request

Power supply for band/DJ at ceremony and reception
What is the price range of your venue?
For 2018, $2500 plus tax for a Friday or Saturday wedding - 14 hours the day of, plus your 1-hour rehearsal and two 1-hour visits.
Sunday through Thursday we rent by the hour with a 5-hour minimum - $210 per hour plus tax