If a rustic wedding weekend, surrounded by your closest family or friends, overlooking the serene, idyllic landscape the Pend Oreille River has to offer sounds like total heaven to you, Ruby Creek Lodge is going to blow your socks off! This budget-friendly venue is perfect for couples who want a wedding weekend packed full of outdoor fun, or just want to get married on the water. They're sharing some of their space with us today, and if you're looking for a last minute venue this year, they still have plenty of openings!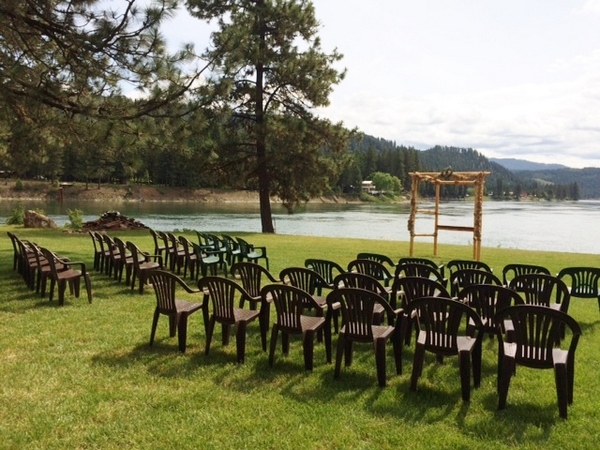 What type of wedding does your venue work best for?
Our venue is best for small, intimate weddings that are mostly informal, and want a weekend outdoors and on the water.
What makes your venue unique?
We have spectacular river and mountain views for wedding ceremony and photos-- there are not many venues around here that are on the water! Our pricing includes bed and breakfast lodging, as well as kitchen facilities available to prepare your own food in a rustic lodge setting, with direct river access. It doesn't get anymore waterfront than us!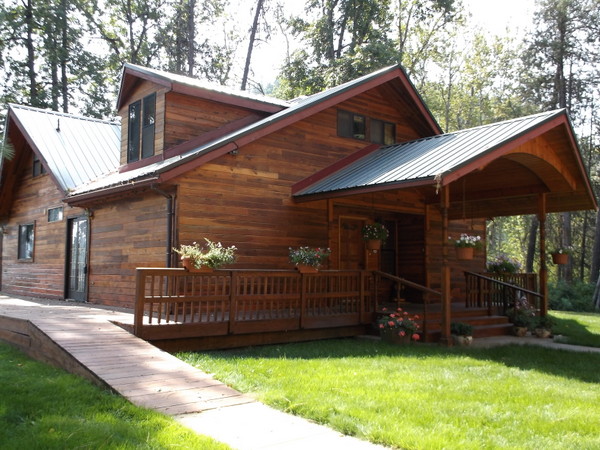 What's the capacity of your venue?
We have fantastic outdoor space, and in case of rain or if you want an indoor wedding, we have seating for 55 guests.
What are your catering guidelines?
You're welcome to bring in your own caterer, all caterers must have a Pend Oreille County health permit and license. The caterer is responsible for all kitchen and food prep set up and clean up. The wedding party may provide all their own food, and you'll need a banquet license to serve alcohol.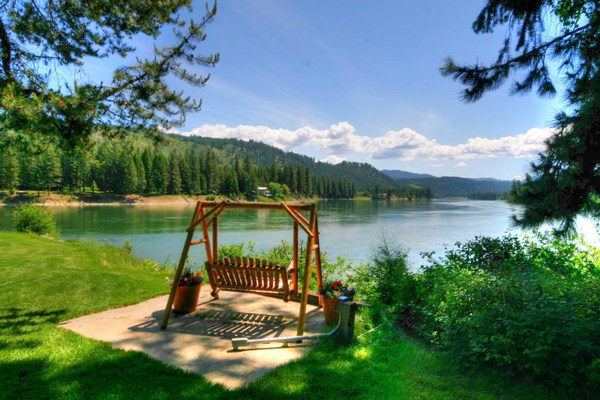 Do you have a ceremony location?
We have beautiful outdoor space that you're welcome to use as you wish, for ceremony and reception, or we have a smaller indoor space that you could have a ceremony in if you'd like.

What is your price range?
Our package price is $2,900 for 48 hours-- noon Friday until noon Sunday, and that includes B&B lodging for 18.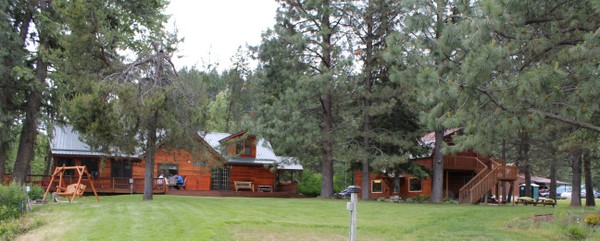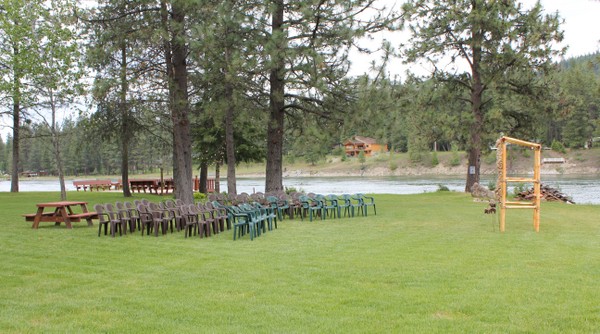 What does your package include?
Our couples get exclusive use of the lodge and the 3-acre grounds for pictures and relaxing, as well as lodging for 15, continental breakfast in the reception hall for up to 20 people on Saturday and Sunday mornings, as well as a reception hall with kitchen facilities. We even have some basic tables and chairs couples can use, as well as some decor items like an arbor for ceremonies, shepherd hooks, and a fire pit.
Why should couples book your venue?
There are very few venues that are as waterfront as we are, and offer full property use with lodging for your immediate family at such a budget-friendly price. We want couples to have a fun, outdoorsy wedding weekend when they stay with us, and our space is perfect for that!