We all know The Martin Woldson Theater at The Fox is one of downtown Spokane's most iconic and historic buildings, but did you also know it makes a perfect wedding venue?! This Art Deco inspired building can host weddings of all sizes in some of the most gorgeous surroundings this city has to offer. Your ceremony can be held on the same stage Frank Sinatra and Bing Crosby performed (along with a million other famous faces) and your reception can be held in the stunning lobby. The whole theater is yours for the taking! Here is an interview to learn more.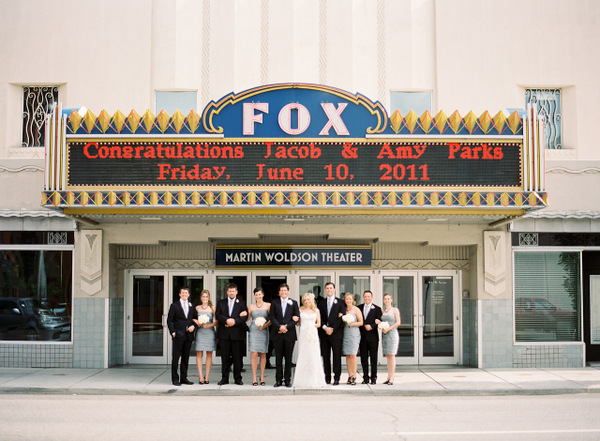 Photo by Mastin Studio
Where are you located:
1001 W. Sprague in downtown Spokane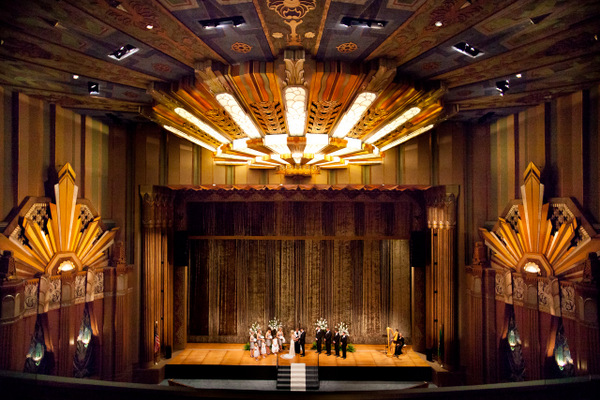 Photo by Mastin Studio
What type of wedding does your venue work best for?
Martin Woldson Theater at The Fox is the ideal wedding venue for couples who want to wow their guests with glamorous surroundings and luxurious spaces. Family and friends will be surprised and delighted by every transition. Watch guests marvel as they move from drinks and mingling in our swanky lobby, to being ushered into our jaw-dropping theater for the ceremony itself, and then on to enjoy a seated dinner in our Founders' Gallery, surrounded by historic Art Deco style. Finally, you can cut loose and dance away under our stunning starburst ceiling as your revelers enjoy a unique experience filled with unforgettable fun and fabulousness.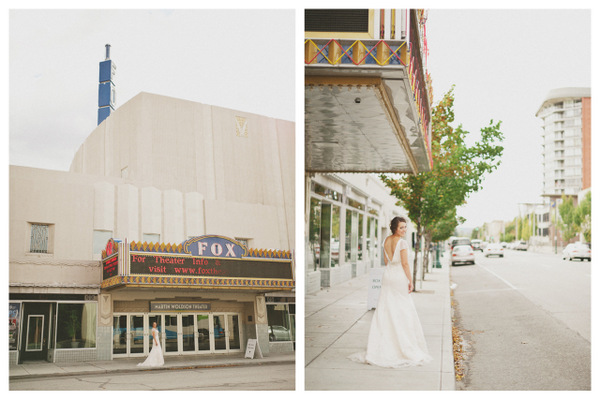 What capacity is your venue?
We offer a range of intimate and grand spaces throughout our theater and galleries. From small family weddings to an audience of more than a thousand, we can make any size ceremony and reception feel personal, gorgeous and glamorous within our Art Deco treasure of a venue. For receptions, our facility provides tables, chairs and linens for 300 guests. We can easily accommodate up to 550 seated guests and up to 700 cocktail guests.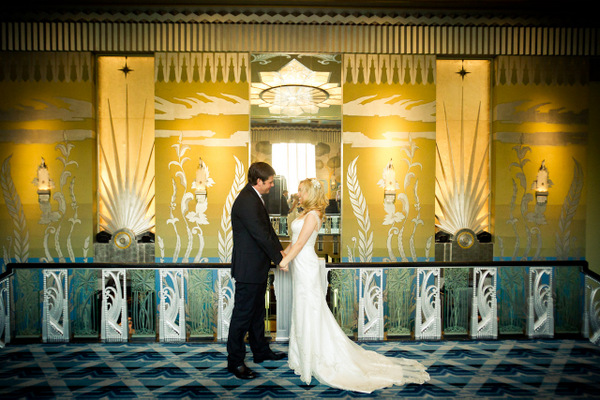 Photo by Mastin Studio
What are your catering guidelines?
Our exclusive, award-winning caterer, Beacon Hill Catering and Events, provides all food and beverage, including alcohol. Beacon Hill loves to custom create menus to suit your special day. From traditional to contemporary, they can accommodate your unique style and taste! To start the conversation and schedule a tour of The Fox, give Beacon Hill a call at 509-482-3556.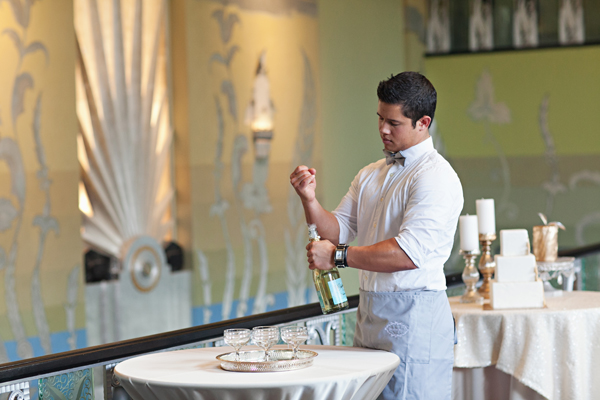 Photo by Amber Glanville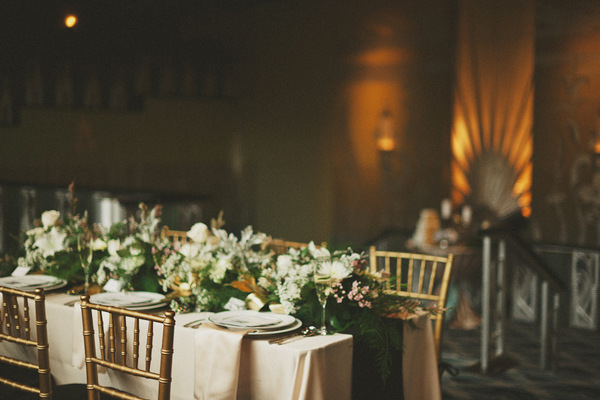 Photo by Designer with a Camera
Do you have a ceremony location?
While you can choose any of our architecturally striking spaces, most couples prefer to take the stage of our breathtaking auditorium. Guests' jaws will drop as they gaze at our trademark sunburst and soaring murals, coupled with the kind of mood lighting only a state-of-the-art theater can produce.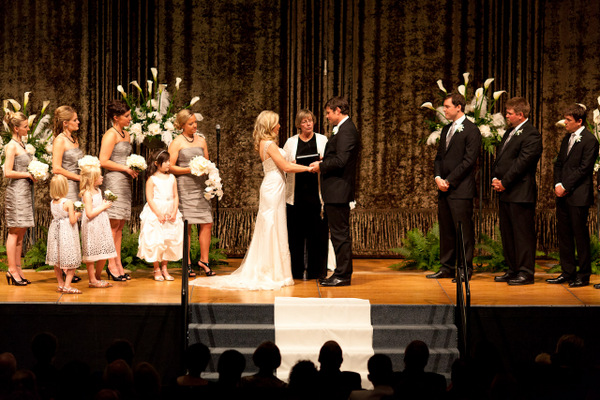 What is your advice for couples planning their wedding?
Please take advantage of the free services offered by our professional wedding coordinator, Fox Events Manager Gretta Bailey and the seasoned team at Beacon Hill Catering and Events. Rest assured that your wishes and concerns will be heard and attended to on your special day. We coordinate all the details, from catering, dining tables and dressing rooms backstage to the sound, lighting and transitions on stage and in our galleries. The cake-cutting and present storage? We've got all that down too. We will make sure you and your adoring public have nothing left to worry about except having a wonderful time. Give Beacon Hill a call at 509-482-3556 to schedule a personal tour.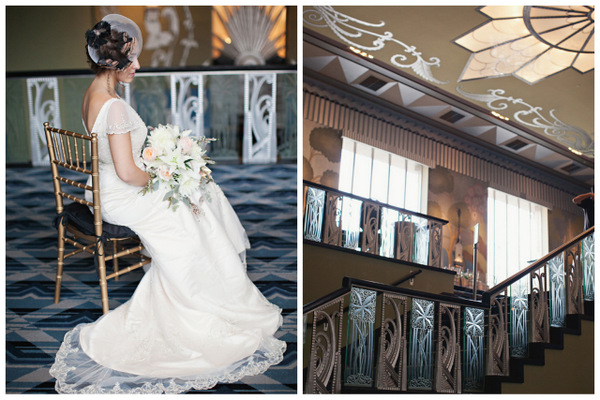 Photo by Amber Glanville
What is included in your package?
VENUE RENTAL SERVICES
Private use of facility
Complete Set up, clean up, and maintenance of items provided by The Fox
Bridal and Groom Suites with adjacent restrooms
3 locations for your choice of ceremony site
Stage & Auditorium (up to 1600 guests)
Founder's Gallery (up to 200 guests)
Mezzanine (up to 100 guests)
Grand Drape to be used on the stage
250 banquet chairs
20 Tall/Short bistro tables
20 Tall bistro chairs
30 60" round tables (seats 8-10)
25 rectangular tables available for head table, gifts, cake and D.J.
Choice of white or ivory linens for all tables
4 flat screen televisions available for slideshows
Self-Service coat check
Marquee with personalized welcome signage
In-House sound system with 2 wireless microphones and speakers running throughout building
Wedding Coordination:
1 hour wedding rehearsal
1 Day-of Wedding Coordinator
1 Day-of Catering Coordinator
Space planning
Menu design
Cake cutting service (disposable plates, forks, and paper napkins)
Vendor recommendations
Event Management:
Complete set-up of The Fox provided items for ceremony and reception site (to include: chair placement, tables, linens and place settings).
Transformation of ceremony site into reception (if needed).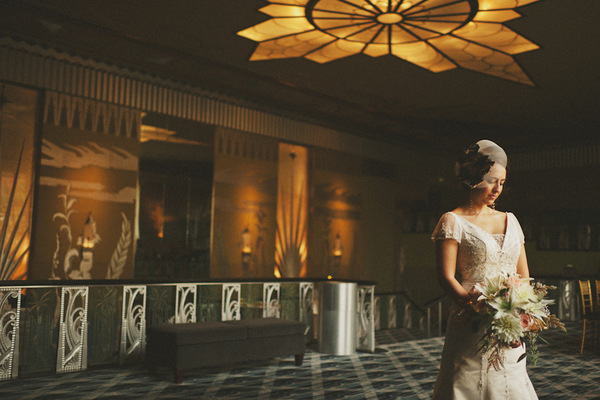 Photo by Designer with a Camera
For more info contact Beacon Hill Events at 509.482.3556 or [email protected].
You can also visit The Martin Woldson Theater at The Fox website.