One of the biggest questions we hear from brides regarding beauty and wedding day prep is if they should get lash extensions or not. Extensions are definitely having a moment in the beauty industry! They're not for everyone, though. We sat down with one of Spokane's lash and makeup queens, SJL Artistry, to get her thoughts on the great falsie vs extension debate, and how to know what's right for you.
First up, extensions. Extensions are individual lashes that are glued to your natural lashes. So they shed as your natural lashes do, in a cycle, which means after the initial application, you'll have to get them filled (similar to how you get acrylic nails filled as they grow out) every few weeks, depending on various factors. Sam from SJL gave us a few pros and cons for extensions.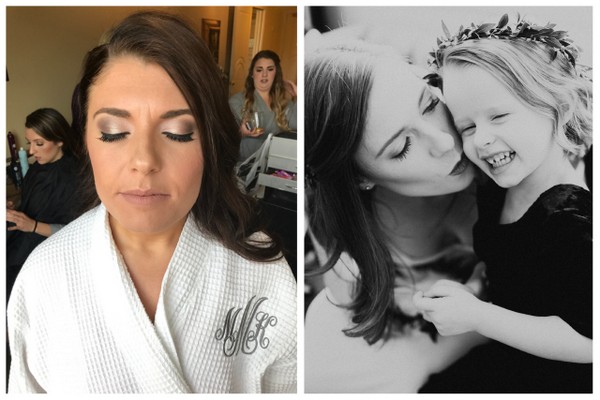 Cons
-Extensions can be addicting, and the cost can add up!
-The maintenance can get difficult for some, especially if you're used to wiping away the day with a makeup wipe or touching your eyes frequently.
-It is a time commitment to schedule and attend fills every few weeks.
-It's important to take the time to research your lash studio. When applied correctly, extensions should not hurt, burn or damage your natural lashes in any way.
So what about falsies? False, or strip, lashes, are what you see on the shelves at the drugstore- strips of false lashes that are temporarily glued on your own lashes for a dramatic effect. They are one time use and come in a huge variety of styles. So what are the pros and cons of the tried and true strip lashes?
Pros
-One time use so cheaper compared to extensions.
-Less maintenance than extensions
-Complete a makeup look and make eyes pop.
Cons
-They're only good for that day, so temporary effect.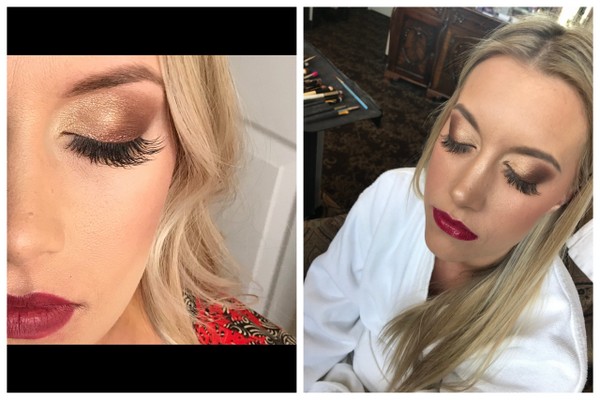 photo courtesy Ashley Haikkila Photography
So how do you know what the best option for you is? If you're looking for a wake-up-and-done look that will last from rehearsal dinner to honeymoon flight home, extensions are worth the investment. If you want more of a natural look for just your wedding day photos and don't mind dealing with mascara on your beach vacay, or don't wear mascara usually, strip lashes are your winner.
Whatever you opt for, it's super important to remember that you should always be visiting a licensed esthetician with a portfolio. Extensions, when not applied correctly, can be painful, burn, irritate, and damage lashes. Remember you get what you pay for!
A makeup trial is an important step prior to your wedding day for any bride. Whether you want strip lashes but aren't sure of how dramatic of a style you want, or want to test run your makeup with extensions, it's always important to schedule a trial with your professional.
If you do opt for extensions, Sam advises you try before your big day, which is good advice for any beauty treatment. She says, "I encourage all my brides to put extensions on 5-6 weeks prior to wedding or event, reactions can happen (very unlikely!) but have been known to happen. I like to have a good amount of time to remove the extensions, if necessary. I have never had this happen, but also just in case someone decided extensions weren't for them, I have time to remove. Another reason I apply extensions early is because I like to get one to two fills in prior to event or wedding. I never know where I am catching the lash growth cycle so to insure I get them as full as I can, I like to get a good fill in right before the big day. I also can eliminate any kinks/questions with care prior to big day!"
WANT TO KNOW MORE ABOUT LASH OPTIONS? CHECK OUT SJL ARTISTRY!