The Other Wedding, sponsored by Apple Brides and The Blackwell Hotel,
is coming up this Sunday, and if you don't already have tickets, you are going to miss out! If you're not already convinced, here's 5 reasons you have to reserve your ticket today!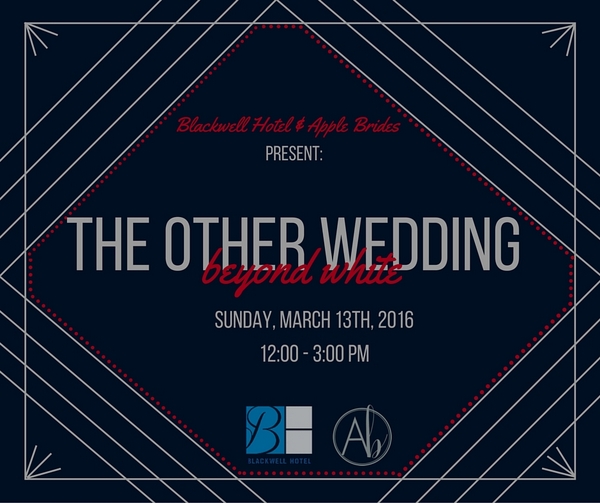 1. All the amazing vendors involved! 
Some of the best vendors in the Inland Northwest are coming together to discuss inspiration for unique events, including 
Event Rents
,
Don Barrington Photography
,
Earthly Beauty Bar,
Dragon Flower Design
,
Big Show Mobile Entertainment,
Greenbluff Fresh Catering
,
T-Blue Boutique,
Joyous Vows,
Le Catering Co.
,
Ashley Graham Events
,
Lavish Salon
,
Batch Bakeshop
, Melody Stafford Bridal and
Anthropologie
! You won't want to miss their input on how you can make your event uniquely you.
2. The fashion inspiration! 
Anthropologie, Melody Stafford Bridal Couture and T-Blue Boutique are coming to show you how to go beyond white-- literally. Whether it's a custom dress in a unique color, or something totally unconventional, if you're looking for more than just a white, poofy dress, you're in luck!
3. Lots of free appetizers and dessert bites! 
Everyone loves free dessert bites and appetizers, right? Some of the most unique restaurant and catering companies will be showcasing their work, and you'll benefit-- trust us!
4. All the inspiration and insight! 
These event professionals are coming together for one reason-- to help inspire and show couples how to curate thoughtful events that are distinctively them by proving alternative examples and avenues to a white wedding. Whether you're looking to elope, add some unique, nontraditional elements to your wedding, or have an event that's entirely new and different, this event will provide ideas, inspiration and insight into how to do just that.
5. If nothing else, there's free champagne! 
What more can you really ask for, right?!
For more information and to purchase a ticket, click here! Seating is extremely limited, so don't miss out!