Our production assistant, Patrice, is recently engaged and taking you along on her wedding planning journey. Check back every other Monday for more real-life wedding planning insights – or follow along here!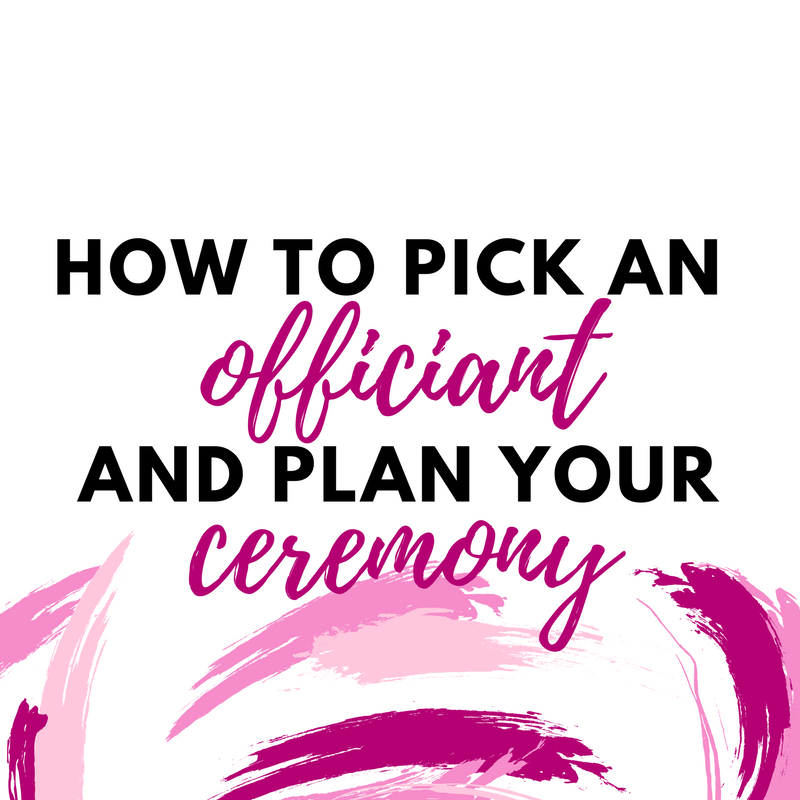 There are so many fun parts of planning a wedding: the flowers, the gown, the dancing... But one thing you simply cannot overlook is actually the reason you're having this whole party in the first place - the ceremony! I am not proud of it, but for some reason, the ceremony seemed like an afterthought during my wedding planning process. However, once I got into it, it was actually one of my favorite parts. It is the heart and life of your wedding and the beginning of your marriage, and it really puts everything into perspective as to the "why we're doing this whole thing in the first place." Now, your ceremony is a big deal. You want it to be a reflection of you and your relationship, and to be a wonderful memory to look back on. Here are the best things that you can do to craft a ceremony that will be everything you dreamed and more:
1. Hire a Pro
So one of the things that surprised me most about getting engaged was how many of our friends and family offered to officiate our wedding... many were joking and some were not. Sure, your brother/best friend/uncle can get certified online and do a quick google search for what to say, but is that really what you want?
For the sake of professionalism and predictability, I knew I wanted to hire a pro. We decided to go with Dave Cavanaugh of Joyous Vows and he has helped us put together a totally custom ceremony that fits us perfectly as a couple. Not only did he provide a ton of different ideas and options for inspiration, he met with us and assisted us in understanding what we really wanted. He helped us navigate tricky family situations and create opportunities to include and highlight those most important to us.
2. Know What Vibe You Want
Your ceremony will set the tone for not only your wedding, but your entire marriage. That's why it's so important to choose a vibe that fits you as a couple, your audience, and the future you would like to build together. Do you want religious or boho readings? Should your vows be funny and light-hearted or serious and romantic? Make sure you and your fiancé are on the same page and then let your vision dictate the officiant that you choose and the ceremony that you put together.
3. Utilize Resources
When you hire a professional officiant, they are going to have a ton of resources that will make crafting your ceremony so much easier! Dave provided us with so many examples and inspiration. His step by step planning process was so easy to follow and add in custom elements as we wanted. The pros have been there a time or two and they know exactly how to get the reaction you're looking for (laughs, tears, heartwarming moments) and chances are they can show you examples, provide you with inspiration, and make it that much easier to craft your perfect ceremony.
4. Search, Search, Search
We knew that we wanted to add some custom elements to our wedding ceremony. This is one part of wedding planning where it is totally okay to utilize Pinterest! There is a ton of inspiration for wedding vows, ceremony structures, and sweet readings. Just keep in mind as you are browsing that your ceremony should still be YOU. Yes, there are tons of cutesy poems and funny vows, but if those don't reflect you or your fiancé, don't use them! Look for ideas that speak to your heart and remind you why you wanted to marry your person in the first place.