Our production assistant, Patrice, is recently married and reflecting on her wedding planning journey. Check back for more real-life wedding planning insights – or follow along here!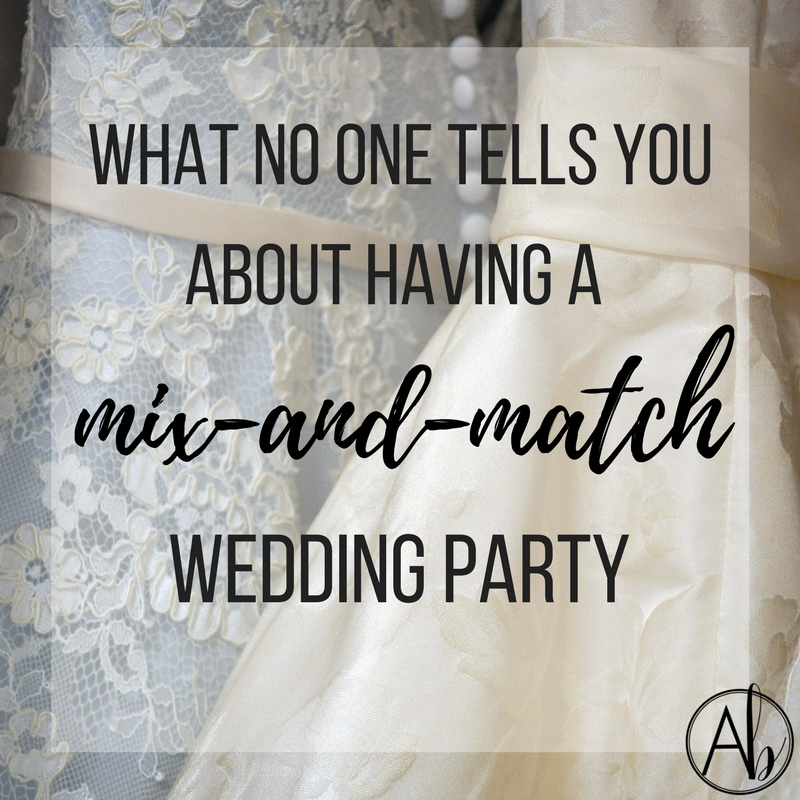 I knew from the start of our engagement that I wanted to do mix-and-match outfits for our wedding party. "It will be so easy, everyone will be so much more comfortable, everyone will love me for this..." I told myself. (I even wrote a
post
about it!) But to my surprise I was completely wrong. Yes, everyone was more comfortable in their actual outfits, but they were very uncomfortable with the process of finding their outfits and it was far from easy. While I thought that I was making the decision stress-free and simple, it was actually the exact opposite. So, if you're thinking about mixing and matching your bridesmaids and groomsmen, here's what I wish someone had told me.
For the gals, give very limited options
I sent my bridesmaids a list of colors and dresses that I loved, as well as a collage of pictures to show the look I wanted to create. This was NOT ENOUGH. When your bridesmaids have the whole world of options available to them, it is overwhelming. And on top of that, they are trying extremely hard to please you and to fit your vision, which puts a lot of pressure on them to make the right decision.
To create the mix-and-match look AND keep the process simple, give your bridesmaids one specific store to buy from with one or two color options. Or to simplify it even more, pick a line of bridesmaid dresses with varying necklines and lengths and tell them to pick within that collection. You may feel like you are not being a "cool, laid-back bride," but trust me, your girls will appreciate the direction!
For the guys, just tell them exactly what to wear
Now, as difficult as it was for the bridesmaids to pick something, it was 10x harder for the guys. I gave them the basic guidelines (kahki pants, white button down shirt, brown shoes, brown belt) but this was no where near enough information. I thought I was doing them a favor as I figured most guys would have these items already on hand, but it turned out almost all of them bought new duds anyway.
So, save yourself (and the groomsmen) some grief and just send them links or hook them up with a tux rental place. Maybe your groom will have something in mind and he can handle the recommendations, just make sure it is as specific as possible!