Our production assistant, Patrice, is recently married and reflecting on her wedding planning journey. Check back for more real-life wedding planning insights – or follow along 
here
!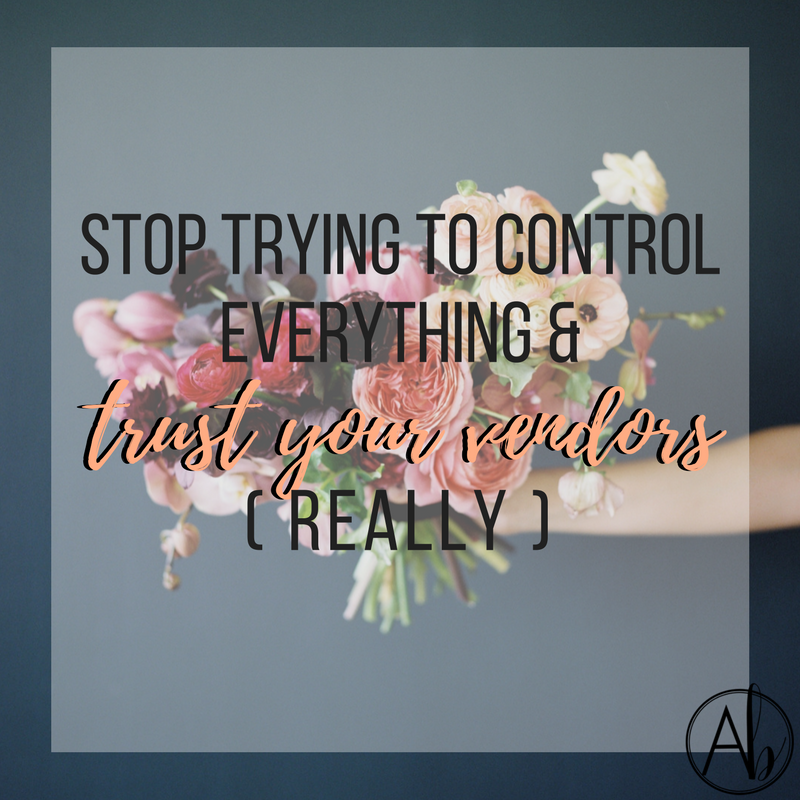 A couple days before my wedding one of my bridesmaids asked me, "what is your wedding cake going to look like?" I shrugged and said "I'm not sure exactly!" and the look of disbelief on her face was priceless. But the truth was, we met with our baker over 6 months before our wedding, and even then I think I had been intentionally vague about what I wanted it to look like.
The same went for my florist, the videographer, and our photographer. I didn't do a million last minute follow up calls to make sure everything was perfect, I didn't provide them with a checklist a mile long of things I had to have, I simply trusted them. Now, please do not get me wrong. It was not that I didn't care how things turned out - it was quite the opposite! If you had seen my wedding binder and Pinterest boards, you would know that I cared very, very much about creating the perfect wedding.
The vendors you hire for your wedding are 
professionals
 (especially if you heard about them on
Apple Brides
!) and they have years of experience to go off of when trying to help you create your dreams come true. They have been through pretty much every situation imaginable (both good and bad) and are better for it. If you do not trust your vendors to plan and execute your vision, 
you're hiring the wrong vendors
!
To ensure that you are on the same page with your vendors, make sure to communicate clearly. Provide lots of examples from Pinterest of what you have in mind, and don't be afraid to share things you don't like. Also, hire an awesome
wedding planner
! They are your right hand man when it comes to your wedding and your vision, and they can recommend vendors that will specifically fit your style and come together to help create the perfect day for you and your spouse.
Still not convinced? See for yourself how incredible our wedding turned out
here
!