So you decided to save some money and hire your mom's best friend's cousin's niece as your wedding photographer. Aaaaand now you're wedding day is coming up and you've heard crickets. Or maybe you had a bad experience with engagement photos and regret everything. Don't sweat, it's okay. Jerome Pollos Photography is here to give insight into what you can do if you hired a less-than-professional photographer and want out ASAP, and what you should be asking when you're hiring a photographer to prevent this from happening to you!
Tears and frustration are no way react to the first sight of your engagement pictures. When this happens, it means you do your homework in picking your wedding photographer.
Once or twice a year I'll have a couple contact me who has went through that experience. They put a blast out on Facebook and ask friends and family, "I need a wedding photographer. Who should I talk to?"
This approach isn't bad per se as long as you do your homework. By not doing your homework, you could end up with engagement images you don't like, but you also may risk losing money. Or, have less of a shot to getting a great photographer who is a perfect fit because they're now booked.
One such couple I met in this situation was Matt and Chelsea.
At the start of their search for a wedding photographer, Matt reached out to his friend from high school who is a well-respected wedding photographer. But once they saw the pricing, they experienced sticker shock. They found an affordable solution with a DJ who also offered a photographer in their package.
Sounds great right? It's 'convenient' and they would have a large part of the wedding personnel from one business.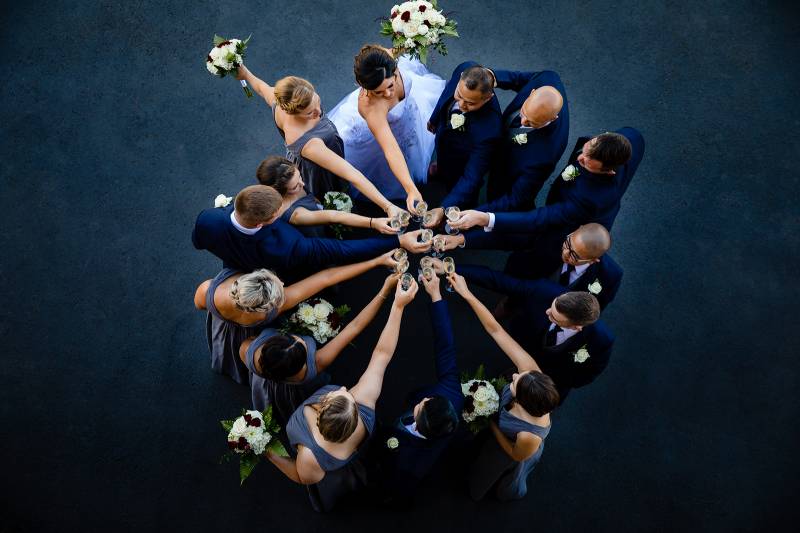 The Reaction
"I realized that something was terribly amiss, when I became extremely uncomfortable in front of the photographer. I'm almost itchy thinking about it now, but it was so incredibly difficult to be 'ourselves', when the photographer had a very clear, albeit not what we had discussed, idea of how these photos could look after lots of Photoshop," Chelsea explained about the situation. "It shouldn't have to be awkward to capture the joy you have of being engaged and that's really when we knew we were in some form of trouble. We didn't know how bad they were until the zip drive arrived. The photographer dropped off the zip drive with the photos to Matt at work, and I knew something was up when Matt didn't want to show me what they look like. Obviously, there were tears."
Alisha and Tuan experienced the results of not doing their due diligence when finding their wedding photographer.
"We were both very upset. I even broke down crying because I was so mad the photos turned out so poorly, especially because this was supposed to be the person that was going to capture the most important day of our lives," Alisha explained about her reaction after seeing her engagement photos. "I didn't see any warning signs until we had such a difficult time getting our photos back. Once again this photographer looked great on social media but after we got our photos back we realized this photographer was great at editing one photo and making it look amazing, but wasn't great at capturing a full album."
The "Conversation"
Unfortunately, some couples are stuck. They can't afford to lose the deposit. Or it's too late to find a replacement photographer. If you have time, and the photographer is willing to return your deposit (unlikely, but worth a shot), or you have extra funds to put toward a new photographer, you may be able to still achieve great wedding day images.
In Matt and Chelsea's situation, there was resolution with no drama.
"Matt spoke with the owner directly about our photo complaints. He was disappointed to hear that we were displeased with the pictures and sad to lose that portion of our business with him. He offered us a full refund, no questions asked. Due to his outstanding customer service on the photos, we decided to keep him as the DJ, and weren't disappointed in his work one bit (we recommend him to all of our engaged couple friends for DJ and lighting services!)."
For Alisha and Tuan, it was a different outcome.
They had paid $250 down for their wedding photography, and the photographer gave them half-off their engagement session charging them $250. All told, they were into this photographer for $500 so far.
"This conversation was actually very frustrating. I sent a nice message to this photographer saying things weren't going to work and that we were planning on going with a different photographer for our wedding. It almost seemed like she already knew it was coming and just said okay and good luck. This photographer never asked what was wrong or what they could have changed. It truly seemed like this photographer did not care whatsoever."
They didn't get their $500 back.
The Talk
Both couples had to deal with bad photos. But they had two different approaches to finding their photographers.
Matt and Chelsea went for lower-budget and convenient. While Alisha and Tuan went for someone who showed great images.
On their second round, both couples switched up their approaches to find their next wedding photographers.
"With our new 'you get what you pay for' attitude, we went back to Matt's high school friend to plead for her to be our photographer, but at this point, she had already booked up and was no longer available," said Chelsea.
Now with some knowledge and experience, they knew they needed to do more research and not settle for convenience sake. They learned our lesson the hard way.
"We tell everybody newly engaged and looking for photographers to realize that at the end of their beautiful wedding, all you're going to have to look back at are these photos. You want to make sure that your photographer understands what makes you a couple and gets the true essence of you. If they don't, you end up looking like a JC Penney's catalog with zero soul and life in the pictures. Good photos are easy to come by, but great photographers are truly rare."
Alisha and Tuan tackled their secondary search like it was their full-time job. They spent a lot of time looking through full wedding albums, reading reviews and talking to friends about who they used.
"We asked a lot more questions and once again looked through a ton of photos," Alisha said about her second search process.
If friends asked Alisha and Tuan how to go about searching for a wedding photographer, they would tell them to through full albums rather than a few photos from each wedding. And meet the photographer in person before putting down a deposit.
The Fix
As soon as you realize there's a problem, address it. Talk to your photographer, let them know your concerns. Communicating early will save you a lot of heartache. And don't go into the conversation all worked up. This is simply a business transaction. It can be difficult to separate the emotion from the conversation, but keeping calm, sticking to the points, and explaining your side while also listening to their side will provide an easier path to a resolution.
Addressing the issue will also save your photographer a lot of heartache too. Because if you're not going to be happy with their work, you probably aren't going to leave the best testimonial for them. And more than likely, they aren't going to feel as connected as they would with a couple who does appreciate their approach, style or personality.
Don't expect to get your retainer fee back though. Those fees are typically non-refundable because that photographer has turned away other work in order to provide a service to you. It's not unheard of though for a photographer to provide a full or partial refund -- especially if there is a lot of time between your cancellation and the wedding day. But for the most part, chalk this up as the cost of not be thorough in your photographer search and hiring.
The Seven-Step Process
This link will give you a step-by-step process into how to find your perfect wedding photographer.
It may sound cliche, but it's true -- the only thing you'll have left after your wedding is your marriage and wedding photos. Don't risk having a bad wedding experience with a photographer who may not be the best fit.
And because a photographer isn't right for you, they may not be right for anyone else. Even the photographers that the two couples in this example hired may be perfect for someone else.
Style, personalities, budget, approach, products, experience, all have a key role in how a couple perceives a wedding photographer. If you can find one that hits all these criteria, you're going to have a great relationship with your photographer.
PRO TIP
Be sure to sit down with your fiancé and create a list of questions addressing the issues that are important to you. And please don't print out the Pinterest "What should you ask your wedding photographer?" list. The questions that are important to you, ask those. The other questions you should ask is:
Do you have a contract?

Do you have insurance?

How do you handle bad lighting and weather?

Do you bring backup gear?

Will you custom build me a collection?

What are the total costs involved for that collection?

How much time do you need for portraits?

What happens if you get sick and can't make it to the wedding?

How do you edit the images? Do you remove blemishes?

How many or which images do your completely edit?

What are the sizes of the image files you deliver?

Is there an online gallery included?

Can I see a wedding gallery you've recently delivered to a couple?