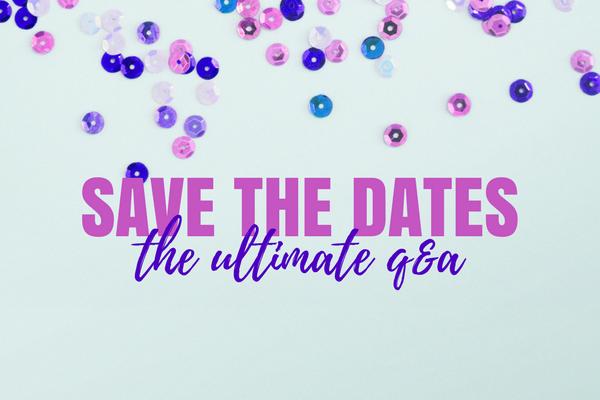 Our production assistant, Patrice, is recently engaged and taking you along on her wedding planning journey. Check back every other Monday for more real-life wedding planning insights - or follow along here!
If you're anything like I was when we first got engaged, you have a lot of questions about save the dates. They're becoming more and more popular with a lot of different options for ordering, designs, and price range. So today I'm tackling all of the mysteries around save the dates.
Q: Do we have to send save the dates?
A: Absolutely not! Save the dates are something that are totally unique to each couple. Just because "the internet says so" or your friends are all sending save the dates doesn't mean that you are obligated to send them out also!
Q: How do we decide if we should send save the dates or not?
A: When deciding whether or not to send save the dates, there are 3 things to consider: your event, your guests, and your budget. If you're having a destination wedding or a wedding around a major holiday, it's definitely a good idea to send save the dates so that your guests can do just that. In our case, my side of the family already had at least 3 people getting married, so I knew it was most considerate to our guests to let them know about our wedding well ahead of time. Lastly, if your budget is pretty tight, save the dates are an easy element to cut that will save you a couple hundred dollars.
Q: How much do save the dates cost?
Save the dates start at around $100 and go up from there depending on how intricate/customized you'd like them to be and how many guests you're sending them to. When budgeting, DON'T FORGET to factor in postage. The save the dates we chose were square, so they required extra postage. That was something we had to consider when pricing different options. There are so many different great places to order save the dates, make sure you check local shops, online retailers, and even custom designers to find exactly what you want for the right price.
Q: Do our save the dates need to be formal?
A: It depends. The style of your save the dates should give your guests a glimpse to what they can expect from your wedding. Whether that's formal, fun, casual, or glam. Our wedding will be fairly casual, so we opted for a simple design and informal addressing.
Q: What should we include on our save the dates?
A: For your save the dates, you should keep it simple. Give guests the main information they need: the date, the location, and that a formal invitation will follow. We opted to also include our wedding website to give everyone the option to read more information, learn more about us, and view more of our engagement photos.
Q: When should we send them?
A: Usually around 6-9 months ahead of time. Again, if you're having a destination wedding or planning the event around a major holiday, 9 months to a year beforehand would be appropriate.
Q: Who should we send save the dates to?
A: Anyone you are going to invite to the wedding. (Your lists should be the exact same!)
Q: What's next?
A: Your save the dates will probably spark some questions. Everyone will be so excited to start thinking about your wedding, they will probably want to know more. Make sure that you, your parents, and your wedding party knows some of the details so you can answer basic questions for those guests that like to plan ahead. (Some of the questions we received were: "Which hotel should we stay at?", and "When should we arrive?") Still have questions? Leave a comment below or ask us on social!